Document Templates are a great way for you to be able to easily auto-populated documents out of Actionstep.
Note: Installing and editing document templates is only available on the Practice Pro and Practice Pro + Accounting products. Documents can be used without templates on the Express product. Some Express systems might come with preset templates that can be generated.
Pre-Configured Document Templates
In our Actionstep Marketplace, you have the ability to download certain pre-configured matter types. Please note that only select Add-ons have preconfigured templates (referred to as "precedents" in Australasia). You will be able to see if Add-ons come with precedents because they will state this in the summary - found by clicking "Learn more" on any Add-on tile.
Click here to access our Add-ons
How do I generate documents from templates in Actionstep?
Once you have document templates installed into your Actionstep system, you will be able to generate automatically-populating documents from these. To do this:
Within a matter, go to Documents > Generate a matter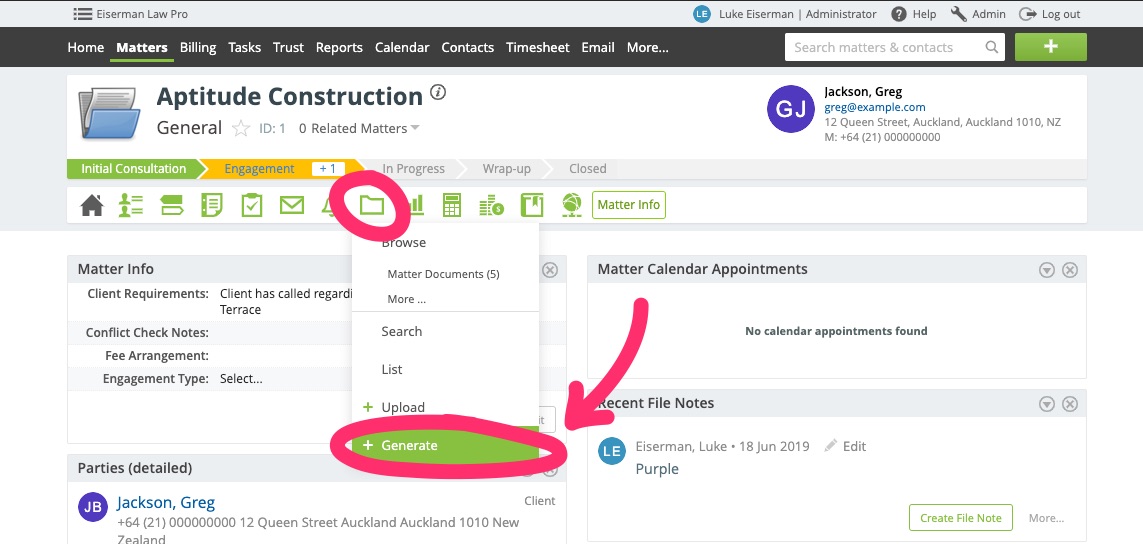 Then, select where you would like to save the document within Actionstep and where it will export the document.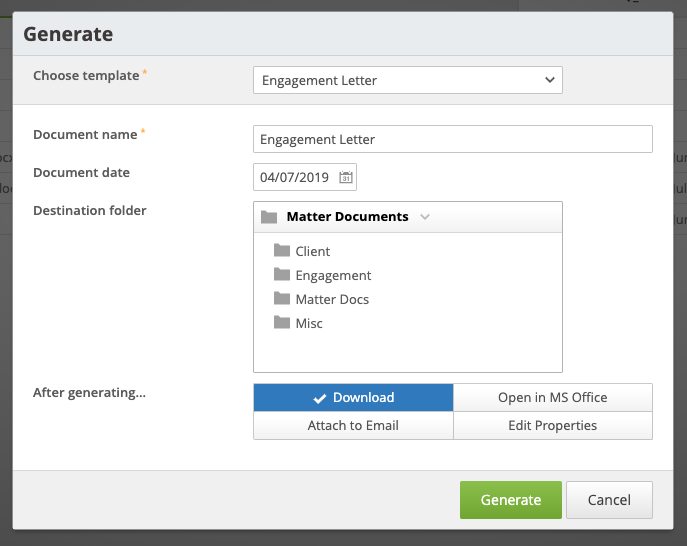 This will produce a pre-populated document. Any fields without relevant information in Actionstep will produce as "***".
Build Your Own Documents Templates
If you cannot find the templates you are after, another option available to you is to build your own document templates.
Why would I want to build my own Document Templates?
Building and uploading your own templates gives you the ability to have Actionstep generate documents that are pre-populated with relevant contact and matter information. You can choose to produce these manually, or you have the ability to assign these to steps in Actionstep, so that these documents are automatically generated for you.
How do I build a document template?
Watch the video below to more easily grasp the basics of document assembly. You will need to quickly create a login to access this video (and will give you access to all other Actionstep webinars).
All document templates will need to be created in Microsoft Word. You certainly have the ability to upload a static document (a document without merge fields, that therefore does not auto-populate with information), however, to get the greatest time savings from Actionstep, we recommend that you make use of the pre-populating merge fields.
Prerequisites:
This will need to be a .docx file
Step 1. Open the existing document and highlight the fields that you want to replace
It will make it FAR easier if you start with the document that you are wanting to build, and then simply find the
For merge fields,
In this case, you can replace "Today's date" with "[[system_date]]"
View the List of Merge fields
In Actionstep, go to Admin > Document Assembly > Merge field list. This will allow you to see a list of all the merge fields available in your system.
To find the merge field you're after, use the Filter function in the top-left hand corner of the screen. Clicking "show available filters" will bring up a popup that looks like this:
To find the merge field you're after, search for merge field name or description. You can also search by data sources. Here are common data sources types:
Action - details regarding your mattersˇ
Custom data
Participant data
How do I upload my document templates once they're built?
To upload document templates for your existing matter types:
Go to Admin > Matter types.
From here, select "Settings" beside the relevant matter type.

Go to "Manage" beside Document templates and upload the template that you've created.
You always have the option of help from an Actionstep certified consulting partner if you get stuck with building these document templates with the correct merge fields. A quote can be provided if interested.